Why Lincoln County?

Incentives

Lincoln County offers one-stop-shop permitting process, utility competition, no impact fees, free Quick Start training through Augusta Technical College, 100% Freeport countywide, $3,000
per job tax credit for 10 or more jobs created, and a development
authority that actively forms partnerships between locating businesses and government agencies. For more about our incentives, download
the Summary of Lincoln County Incentives.

We Are Cyber Ready

Active Member of the CSRA Alliance for Fort Gordon/Cyber District

Direct Connection to High Speed Internet through the Columbia County Fiber Ring

Minutes from FT Gordon Main Gate

Job Opening
(accepting applications from March 1, 2022 - May 15, 2022)
The Lincoln County Development Authority is accepting applicants for the position of Executive Director. Please submit resumes to LCDA , PO BOX 490, Lincolnton, GA 30817-0490.

Lincoln County Development Authority
112 N. Washington ST, PO BOX 490
Lincolnton, GA, 30817
(706) 359-7970
Equal Opportunity Employer


Why Lincoln County?

Spirit of Growth

Lincoln County nurtures a diverse collection of businesses, from multi-generational family businesses to large manufacturers. Ninety-six of Lincoln County's 371 companies are small businesses, with fewer than 20 employees, and the county has earned Entrepreneur-Friendly designation from the State.

Why Lincoln County?

Skilled Workforce

Lincoln County residents have exceptional access to education, job training and workforce development opportunities in the area. More than 84% of Lincoln County adults hold a high school diploma, and more than 39% have college or technical school training. More than 11,100 adults in the labor draw area are employed in manufacturing. Lincoln County's workforce is tech-savvy and will become more so as the U.S. Army establishes its Cyber Command headquarters at nearby Fort Gordon. View the Lincoln County Community Profile and the Lincoln County Labor Profile for details.

Why Lincoln County?


Good Infrastructure

Lincolnton's major transportation corridors, US Hwy. 378, GA 43, GA 47, GA 79 and GA 220 put Lincoln County's growing business/industrial park within a 20-30 minute drive to Interstate 20.

Why Lincoln County?


Committed Community

A progressive local community with County and Development Authority officials that have demonstrated an aggressive policy in working to meet the needs of expanding and growing companies. We are prepared to work with and address the needs and requirements of the existing industrial firms located in Lincoln County as well as those relocating or expanding in our community.
About Us
The Lincoln County Development Authority was established to promote economic development in our county, to create jobs and enhance the quality of life for our citizens. The Authority provides services to structure economic development and assist existing and prospective companies in many phases of expansion or site location. The Authority cooperates with local, regional and state agencies to promote the location of a prospect within Lincoln County.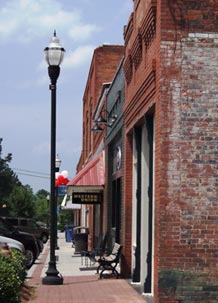 The Authority consists of an all volunteer seven member board, appointed by the County Commissioners. Authority activities are accomplished by levying up to (1) mil of tax to fund the operational budget. Additional funding may come as a result of grants or leases.
Economic development is an ongoing and sustaining process, essential to planning for the future. Development is also important to the revenue base of Lincoln County. Economic development programs and tools are used to recruit industries, strengthen businesses and stimulate the economy.
Lincoln County is poised for greater growth anticipated through 2025. This growth will allow the county to strive toward attracting the type of residential, commercial and industrial growth that will best meet its overall goal of providing employment opportunities for all its residents, while still protecting the rural character of its jurisdiction. The pro-business attitude of the local leadership offers a warm welcome to industries, businesses and entrepreneurs.